Modular Off-site Manufacturing
Our innovative façade prefabrication technology delivers higher quality, faster build times and a safer worksite.
Off-site manufacturing (OSM) of modular facades is transforming construction speed, quality and safety, and Symonite is leading the development and application of this technology in New Zealand. It's a game-changer.
The delays of on-site measures and fitting to the frame are gone. Working completely in the BIM environment, we can go directly from digital design to fabrication in factory conditions, with much finer control and accuracy. Critical details and tolerances can be more closely managed, and automation ensures consistent quality. The modular panels arrive on-site finished, numbered and ready to be craned in. Installation is faster, needs fewer people, and allows a safer working environment.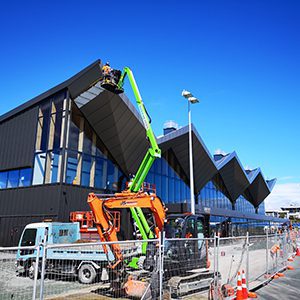 We collaborate with architects and designers from the earliest stages of a façade project, using the expertise of our dedicated detailing studio.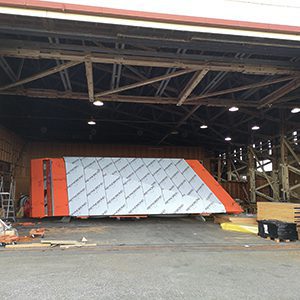 We use digital technology and skilled labour to fabricate high quality modular cladding panels ready to ship to site.
We deliver panels to site, ready to crane into position before we complete the vertical and horizontal connections.
BIM accuracy and workflow coordination
BIM enables us to take the digital design model straight into our factory, where automation produces the steel frame, joinery, glazing rails and cladding panels to the exact dimensions. The full panels are fabricated, assembled and ready precisely when they're needed. Factory automation is more precise and higher quality, as well as enabling greater speed and cost savings.
Speed and construction efficiency
Our technology-driven OSM processes speed up every stage of the job, delivering significant time and cost efficiencies. We can better co-ordinate programmes with the overall project and the work of on-site trades. Installation requires fewer operators and is quicker. We use DfMA software to minimise material wastage at manufacture.
Safer construction environment
The Health & Safety benefits of OSM are considerable. With pre-finished panels craned in, there's no need to have crew working at heights on scaffolding. Fewer people are needed on-site to complete the install, and there are no weather-related constraints or storage issues.
Design consultation with architects including sketch details, product samples and prototype assemblies.

Buildability consultation with architects and main contractors.

Full shop drawings for consent, tender and construction.

Everything made in our Auckland factory.

Access to the top-performing cladding systems, all tested for New Zealand conditions.
A full skill set – from design and engineering to fabrication to installation.
A wide range of cladding options with different colours and textures.
Louvre systems and 3-D slide-on components.
Fire and acoustic compliance.
One-stop façade PS1.
Full envelope warranties.
Find out more about Symonite Offsite Manufacturing.